On novembre 2, 2017
A new campaign, #MyMoment, has been launched by leading Olympians and Paralympians preparing for Pyeongchang 2018. The hope is to highlight the "irreplaceable moments clean athletes have lost to doping".
On août 3, 2017
World Olympic Gold Medal winner and track record holder Usain Bolt speaks out about "Doping in Sport" on the BBC. Bolt says that dopers have to "stop or the sport will die."
On juillet 10, 2017
This week is the start of 'Clean Sport Week', an initiative launched by the UK Anti-Doping (UKAD) organisation and is designed to raise awareness of the work undertaken to ensure all sports in the UK are clean and fair. 'Clean Sport Week' comes at a time when drug use at every level of sport is
On juin 26, 2017
The world of Anti-Doping took a remarkable step of suspending the UCLA testing amidst concerns over best practices.

On mars 6, 2017
Versapak representatives Chris Garner and Fabio De Jesus will be attending the upcoming Tackling Doping in Sport event on 8th and 9th March at the Hilton London, Wembley.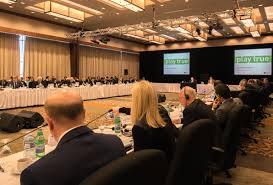 On juin 28, 2016
Montreal, 24 June 2016 – The World Anti-Doping Agency (WADA) announces that, due to a non-conformity with the International Standard for Laboratories (ISL), it has suspended the accreditation of the Brazilian Doping Control Laboratory (Laboratório Brasileiro de Controle de Dopagem – LBCD – LADETEC / IQ – UFRJ) in Rio de Janeiro, Brazil [Rio Laboratory].
On mai 16, 2016
The IAAF President's on-stage interview was one of the highlight features of the WADA Anti-Doping Organization (ADO) Symposium in March
On mars 11, 2016
The WADA Athletes' Committee met today in Canmore, Alberta. The most important discussion item for us, as the voice and representatives of clean athletes world-wide, was the request we put forth in November to the WADA Foundation Board: a request to extend the mandate of the Independent Commission.
On mars 9, 2016
WADA President Sir Craig Reedie stressed the importance of regaining the trust of clean athletes during his headline speech at the Tackling Doping in Sport Conference in London today.

On mars 3, 2016
Versapak Doping Control is delighted to be sponsoring the Tackling Doping in Sports Event 2016.